Eugenio Cusumano, Leiden University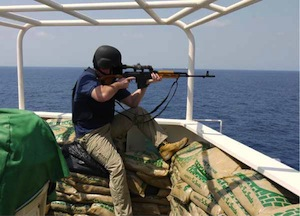 The rise of piracy has informed major transformations in Italian maritime security policies. In a recent article in Ocean Development & International Law, Stefano Ruzza and I analyse Italy's approach to deploy armed vessel protection teams on board of ships. Here I draw attention to a recent shift in Italy's maritime security policy that allows private security contractors to take on a greater role in protecting Italian flagged ships against pirate attacks.
Italian vessels repeatedly suffered from pirate attacks. Between 2009 and 2013, 35 ships were attacked. Five attacks, four of which occurred in 2011, resulted in the hijacking of the vessel. In some cases, such as the rescue of the Montecristo in October 2011, the crew was freed by a British Navy operation, while in others large ransoms were paid. The Savina Caylin, for example, was released in February 2011 after the payment of no less than 10 million USD. Besides threatening the Italian shipping industry, piracy has been conceptualized as a threat to the national interest at large, as the attacks could potentially result in a shift of maritime routes away from Suez and the Mediterranean, and therefore lead to a marginalization of Italian ports. Due to these reasons, Italy has played a prominent role in the major international initiatives launched to counter maitime piracy. In 2005, Italy was the first country to deploy a frigate off the Somali shores in an antipiracy mission called Mare Sicuro [Safe Sea]. Since then, Italy has participated in various other naval operations such as NATO's Ocean Shield, EUNAVFOR Atalanta, EUCAP Nestor and the Combined Task Force 151.